Thuraya Satsleeve Hotspot
Thuraya Satsleeve Hotspot is a portable satellite Wi -Fi hotspot and comes with a stand included in the package . If you don't want to keep your smartphone and your satellite unit separate, then this is the one for you .
Simply place the Hotspot outside your tent or camper van and make a call, email, message or use your apps in the comfort of being indoors . With the Sat Sleeve Hotspot, you've got the range and the room to move, to kick back and give yourself space .
Part Number:
---
0-14 Days) $20 per day
(15-28 Days) $17 per day
(29 Days+) $15 per day
(3+ Months) $10 per day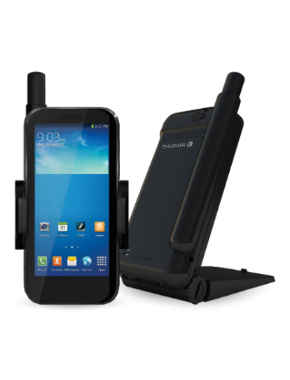 The Sat Sleeve Hotspot allows you to stay connected with colleagues, loved ones and friends while you continue your journey . If you think you know what your smart phone can do, think again . Your smart phone becomes a satellite phone - keeping you safe and in touch with the most important people in your life.
When launched the SatSleeve, was a great success . Pleased with how popular it was , we wanted to make it even better. Well now it is, twice over , because there are two new models to choose from . Which ever choice you make, you'll enjoy the perfect blend of mobility and simplicity , and the fastest way to own a satellite smartphone.
When you' re out there on the move, in the middle of nowhere, it would be good to know the rest of the world is just a phone call away. Well now it is, with SatSleeve+ and SatSleeve Hotspot
Dimensions
Main unit including universal smartphone adaptor:
138 x 69 x 42
Weight
256g
Connectivity
3.5 mm jack for headset
Micro USB for charging and upgrade
DC charging jack
Battery
3.7V Li-ion, 2440 mAh
Talk time
up to 3 hours
Standby time
− Wi-Fi continuously on: up to 9 hours
− Wi-Fi off: up to 70 hours*
(* incoming calls and SOS function still available on main unit)
Satellite Data speed
Download up to 60 kbps, Upload up to 15 kbps (GmPRS)
Power supply
Output DC 5V / 2.0A (with EU/UK/CN/AUS adaptors)
Operating temperature
-10 °C to +55 °C
Storage temperature
-20 °C to +70°C
App languages
English, Arabic, Bahasa Indonesia, Chinese (simplified), French, German, Italian, Japanese, Korean, Portuguese, Russian, Spanish
PC compatibility (for firmware upgrades)
Windows 8/8.1, 7, Vista