Iridium 9555 PotsDOCK
Beam PotsDOCK 9555 is an intelligent compact docking station specifically designed to support RJ11 / POTS, Bluetooth and inbuilt GPS transforming the Iridium 9555 satellite handset into an intelligent feature rich device. PotsDOCK allows the 9555 handset to be used in a wide variety of applications, the intelligent RJ11 / POTS interface enables standard corded, cordless or DECT handsets to be used or alternatively interfaced with a PBX system presenting standard ring, busy and dial tones like a standard phone network.
Part Number: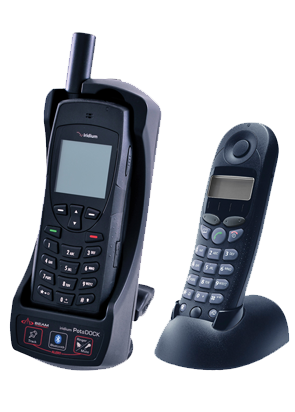 PotsDOCK also has an inbuilt Bluetooth module for voice connectivity along with an intelligent tracking and alert reporting system utilizing the inbuilt GPS engine of the PotsDOCK. The alert & tracking module can be configured to support periodic polling or emergency alert reporting.
The Iridium 9555 handset fits securely in the docking station, which features inbuilt Bluetooth, USB data, phone charging and integrated antenna, data and power connection making it possible to keep all antenna cables and power permanently connected to the dock ready for use. The Iridium 9555 handset is easily inserted and removed by the press of a button on the top of the PotsDOCK making it very easy to remove the 9555 at anytime with the peace of mind knowing it will always be fully charged.
PotsDOCK also supports the use of an optional compact Beam Privacy Handset that can be located next to the PotsDOCK for added convenience if required.
Features
RJ11/POTS Connectivity
Ring, Busy & Dial tones
In-built GPS alert & tracking system
Bluetooth Voice Connectivity
USB data Port
Integrated antenna connection
Charges 9555 Handset
9 - 32V DC Input
Supports Voice & Data services
Inbuilt Ringer
Easy & Convenient Installation
Optional Handset - Privacy mode
Superior voice quality
Universal Mounting Bracket
Fully Certified – Including ROHS
Easy to install
Iridium Network

9555 Handset

1616 - 1625 MHz

Compressed Data

10 - 12 kbps

Voice / Data Modulation

2.4 kbps

PotsDOCK 9555 CRADLE Power Specifications

Power Input Voltage

10 - 32 V DC, 2Amax

Power Consumption at 12v DC

Stand by - incl handset & RJ11

1.1W (90mA @ 12Vin)

Transmit - incl handset & RJ11

6W (0.5A @ 12Vin)

GPS Module (internal)

Channels

14 tracking, 51 Channel Acquiring

Update Rate

1Hz

Accuracy

Position 2.5mCEP, Velocity 0.1m/s

Acquisition TTFF

Timing 300ns

Sensitivity

Cold 29sec, Hot 1sec

Operational Limits

--161 dBm

Dynamics

Altitude 18000m , Velocity 515m/s 4G

Physical Specifications

Dimensions – mm

200 x 75 x 65

Dimensions - inches

7.9 x 3.0 x 2.7

Weight – kg

0.32

Weight – lbs

0.7

Environment Specifications

9555 Handset Operating Range

-10 to +55°C -14 to +131°F

PotsDock 9555 Operating Range

-20 to +70°C -4 to +158°F

Charging Temperature range

-0 to +40°C 32 to +113°F

Operating Humidity Range

< 85% RH non-condensing

Storage Temperature

-30 to +70°C -22 to +158°F

Connectors / Interfaces

POTS/RJ11

RJ11/2-wire, complex or 600 ?, 5REN, 600m adjustable dial/busy tones/frequency, adaptive Z

Iridium - Antenna

Fixed Cable to TNC-Female

GPS-Antenna

Fixed Cable to SMA-Female

9-32 V DC

4-way microFit (AC/DC adator, or DC lead)

Privacy Handset Port

4 pole 3.5mm jack

Data Port

USB Mini Base of Dock

Bluetooth® Voice Connectivity

Inbuilt module/antenna, class 1 (up to 300m) Bluetooth® system 2.0v+EDR, CE and FCC

Buttons/LEDs

Buttons

LED

Bluetooth®

Blue/Orange

Alert

Red/Orange

Mute/Ringer

Red

Backlight

White LED

Handset Release

Top of Cradle, No LED

Certifications

Iridium

Electrical Safety

EMC Compliance

C Tick

CE Compliance

RoHS

Kit Contents

Beam PotsDOCK Cradle

Universal Mounting Bracket (RAM)

110 - 240V AC Plug Pack

9 - 32V DC Power Cable

User Manual

Quick Start Guide