Iridium 9555 SatDOCK - G
Beam SatDOCK In-vehicle hands-free docking station provides a high quality semi-permanent installation for the Iridium 9555 handset. The docking station has inbuilt echo cancelling and full duplex technologies to provide superior voice quality and professional handsfree or privacy calls for various transport application.
Part Number: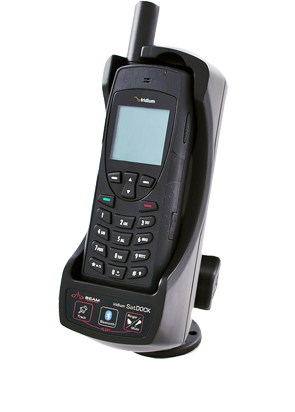 The SatDOCK supports Tracking & Alert functionality via the dedicated in built GPS engine. Tracking messages can be pre configured to support periodic reporting, manual position report update via button press, remote polling or the sending of an emergency alert messages all via SMS / SMS to email or SBD ( Short Burst Data )
The Iridium 9555 satellite handset, fits securely in the Dock which is compact in design, unlike other traditional docking kits that require another external box for installation, the Beam SatDOCK is all contained within the one single compact Dock. Other features include phone charging, in-built Bluetooth, USB data, inbuilt ringer and allows antenna and power to be permanently connected to the Dock ready for use. The Iridium 9555 handset is easily inserted and removed by the press of a button on the top of the dock making it very easy to use away from the Dock when required.
SatDOCK also supports the use of an optional active privacy handset or the fully featured intelligent handset, RST970 these simply and easily added to the SatDOCK.
SatDOCK provides the flexibility of using your handheld satellite telephone to support the use of equipment for a wide variety of applications. It has an in-built Bluetooth module for voice connectivity along with an intelligent tracking and alert reporting system utilizing the in-built GPS engine of the SatDOCK. The alert & tracking module can be configured to support periodic polling or emergency alert reporting.
SatDOCK CRADLE
Securely holds 9555 handset
Robust design and construction
Charges 9555 handset ready for use
Integrated power & antenna connection
Integrated USB connectivity
Handsfree Mode
In-built echo cancelling
Full duplex technology
Superior voice quality
Tracking / GPS
Tracking & alert monitoring capable
Periodic position reports or remotely polled
In-built GPS engine
Interfaces to Beam's LeoTRAK-Online
Compatible with other tracking applications
Panic / Alerts
Panic alert button in-built to cradle
Option of additional wired alert buttons
Integrated bluetooth
Bluetooth Voice Connectivity
In - built ringer
In-built ringer for enhanced ring indication
Voice, Data, SMS, SBD
Supports all Iridium voice, data, SMS & SBD services
Privacy & Intellegent Handset
Supports optional Beam privacy handset and Intelligent Handset ( RST970)
Auto sensing answer/hang-up intelligence
Switches between handset and hands-free modes
Installation
Supports 9 - 32V DC power input
Flexible installation via universal mount, also suitable for wall mounting
Antenna, microphone and speaker installed in a convenient location
Allows semi-permanent installation
Quality
2 year peace of mind replacement guarantee
100% factory tested
Compliance: Iridium, RoHS, CE, IEC60945
Power Specifications

Power input voltage

9 - 32 V DC, 2A Max

Average Power Consumption

Current @ 12V Power Watts

Stand by

68mA

Transmit + charging

0.7A 8.4W

Sleep Mode

3mA 35mW

Interfaces

External Speaker and Microphone

One horizontal 2-pin Microfit connector on the cable loom for speaker and one vertical 2-pin Microfit connector for microphone.

Privacy Handset (Line In/Out)

4-pole 3.5mm audio jack at the bottom of the SatDOCK cradle.

Data Port (USB)

USB Mini-B 5-pin female (USB Slave).

USB 2.0 compliant, CDC Serial profile.

Alarm (Alert) Loop1 input, 1 output)

Alarm Mode:

"Normally-Closed" Loop IN to OUT

Up to 500m cable run / multiple buttons.

Power Cable

4-way Microfit socket. +Vin, 0V (GND), and ACC (On/Off Sense). 9-32VDC tolerant.

ACC sense: High(1) > +7Vdc

Low (0) 0V &tl; +5Vdc

Horn Output

Green wire on the cable loom. Open collec¬tor output can be interfaced to 12 or 24VDC with up to 120mA current sink capability.

Bluetooth® Module (Internal)

System

Bluetooth® ® 2.0v+EDR (Enhanced Data Rates), 802.11 coexistence.

Profiles

HFP - Hands-Free Profile v.1.5

HFP-AG - Hands-Free Audio Gateway Pro¬file v.1.5 & SPP - Serial Port Profile

Power

Default = Class 2 (< 10 metres).

Class 1 (<100 metres), +18dBm max.

2.4GHz - 2.4835GHz Unlicensed ISM Band

Antenna

Integrated chip antenna

Regulatory

Bluetooth® identifier: B03005.

CE 89/336/EEC - #EC/2006/20013C.

FCC part 15 class B: SatDOCK contains Transmitter Module FCC ID: QOQWT11.

Canada: Cert# 5123A-BGTWT11E

Japan Standard: R 201 NY 07215089

GPS Module (Internal)

Receiver Type

14 tracking channels, 51 Acquiring, L1 frequency (1575.42MHz)

Update rate

1Hz

Accuracy

Position 2.5mCEP, Velocity 0.1m/s, Timing 300ns

Acquisition TTFF

Cold 29sec, Hot 1sec

Sensitivity

-161 dBm

Operational Limits

Altitude 18000m,Velocity 515m/s

Dynamics

4G

Active Antenna Recommendation

Minimum gain 15 - 20dB

(to compensate signal loss in RF cable)

Maximum noise figure 1.5 dB

Maximum gain 50 dB

Environment Specifications

Operating Range SatDOCK

-20°C to +70°C

Operating Range 9555 Handset

-10°C to +55°C

Operating Humidity Range

< 85% RH non-condensing

Storage Temperature

-30C to +70C

Weight

Cradle 0.32kg (0.7 lbs)

Atmospheric Protection

Conformal Coating to Circuit Board Assy

EMC Compliance

CE, IEC60945:2002 (Section 9 & 10)

2009/19/EC - Automotive EMC directive

RoHS

Full compliant RoHS Directive EU 2002/95/EC (All 6 substances)

WEEE

For EU countries, this product must be col¬lected separately from household waste, as defined in each region. This product must not be discarded together with household waste.