Iridium 9555 Satellite Phone
Landwide customers rely on the Iridium 9555 to be their lifeline in any critical situation, as it was designed from the outset to operate with guaranteed proficiency in the harshest environments that nature can throw at it.
Part Number:
---
0-14 Days) $23 per day
(15-28 Days) $20 per day
(29 Days+) $18 per day
(3+ Months) $13 per day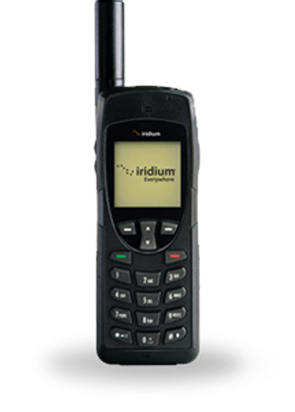 Proven reliable: The Iridium 9555 has been designed from the ground up to operate with assured competence in the harshest environments that nature can throw at it. As a result, Landwide customers rely on it every day to be their lifeline in any critical situation. Whether you're in the middle of a remote jungle, at sea in a storm, or deep in the wilderness, the Iridium 9555 provides reliable and uninterrupted communication that you can depend on. Don't take chances with your safety in critical situations - choose the Iridium 9555 for dependable satellite communication no matter where you are.
Compact: The most compact satellite phone Iridium has ever designed, it also belies its diminutive size by being the most powerful yet. Fitted with an antenna that retracts close in to the body, the 9555 is significantly smaller than Iridium's previous models, making it possible to stow in tighter spaces.
Enhanced feature set: Incorporating new functionality, Iridium's industry-defining standard feature set has been further enhanced with the release of the 9555. Provision of an integrated speakerphone, upgraded mini-USB data port as well as refined SMS and email messaging capability means that Landwide customers find it easier to stay in touch permanently - irrespective of their location.
Powerful software: Accompanied by purpose-designed application software, the Iridium 9555 becomes as indispensible as it is capable.
How It Works: The Iridium 9555 satellite phone's interface has recently been completely re-designed to be even more intuitive than before - giving the user a more efficient and rewarding experience. In practise, it is smart enough to use without even reading the instruction manual, right out of the box. Whilst we recommend that you read our manual eventually, it does mean that your learning curve has neen dramatically flattened. Additionally, twenty one native languages are supported, making the Iridium 9555 a truly global phone.
Features
Professional industrial design delivers unmatched durabilty
Tighter physical dimensions resulting in greater portability
A user interface so intuitive, referring to a manual is almost not required
Super-advanced SMS and eMail messaging abilities
Speaker phone built right in
Hands-free headset port
Retractable antenna
Phone supports use as a modem for external devices
Mini-USB data port
Twenty one international languages supported
Specifications
Dimensions: 143 mm (L) x 55 mm (W) x 30 mm (D)
Weight: 266 g (9.4 oz)
Operating Temperature Range: -10 °C to +55 °C
Duration
Standby time: up to 30 hours
Talk time: up to 3.1 hours
Display
200 character illuminated graphic display
Volume, signal and battery strength meters
Illuminated weather-resistant keypad
Calling Features
Integrated speakerphone
Quick-connect to Iridium voice mail
Two-way SMS and short email capability
Pre-programmable International Access Code (00 or +)
Mailbox for voice, numeric & text messages
Selectable ring and alert tones (8 choices)
Memory
100-entry internal address book, with capacity for multiple phone numbers, email addresses and notes
SIM card address book with 155-entry capacity
Call history retains received, missed and dialed calls
Usage Control Features
User-configurable call timers to manage costs
Keypad lock and PIN lock for additional security
Iridium 9555 satellite phone package includes:
AC charger, international plug kit, DC travel charger, hands-free headset, leather case, auxiliary antenna adapter, 5' external auxiliary antenna, USB data cable, quick-start guide, user guide, and CD-ROM

Iridium Postpaid Aust-60 Plan
Plans at a glance (inclusive of GST)
Monthly Subscription
$60.00
Plan Duration (months)
12
Activation Fee
$50.00
Flagfall
$0.00
From Iridium phones inside AUS (per minute)
Iridium to PSTN or Cellular
$1.98
Iridium to Iridium
$1.98
Iridium to Other Sat System
$18.00
Iridium to Customer Care
$0.00
Iridium to Personal Mailbox
$1.95
Iridium Direct Internet Data Call
$1.95
SMS Message (per message)
$1.20
From Iridium phones outside AUS (per minute)
Iridium to PSTN or Cellular
$2.55
Iridium to Iridium
$2.55
Iridium to Other Sat System
$18.00
Iridium toCustomer Care
$0.00
Iridium to Personal Mailbox
$1.95
Iridium Direct Internet Data Call
$2.55
SMS Message (per message)
$1.20
Calls Originating in North America
$6.50
Calls Originating in South America
$6.50
Calls Originating in Europe
$6.50