Iridium 9575 Extreme
The Iridium 9575 Extreme is an internationally certified handset with SEND (Satellite Emergency Notification Device) capabilities. It surpasses its competitors by offering a programmable, GPS-enabled, one-touch SOS button - a first for satellite phones. With this innovative safety feature, users can remotely alert emergency service personnel of their need for assistance and receive updates on their response in real-time.
Part Number:
---
(0-14 Days) $25 per day
(15-28 Days) $23 per day
(29 Days+) $20 per day
(3+ Months) $13 per day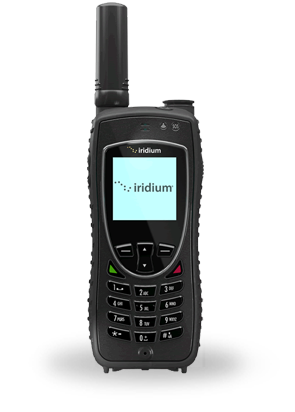 Iridium's 9575 model hosts the largest set of features and accessories of any phone currently on the market, offering voice, data, SMS, realtime tracking and GPS-enabled SOS. It's also built to military specification to take the rough and tumble you're likely to subject it to. This is a phone you can rely on.
Compliant: Empowered by the world's only satellite network that can call itself truly global, Iridium Extreme users enjoy the most advanced and yet reliable voice and data capabilities available on any device anywhere.
Extensible: Whether you find yourself in an icy crevasse, or on a desert dune, Iridium Extreme will handle the most demanding user's communications needs without hesitation. Boasting more accessories and technical features than any other sat phone, it is also the only one that comes standard with both real time tracking and GPS-enabled SOS. Connect with Iridium Extend, and the 9575 will create a Wi-Fi hotspot so that you can keep in touch via your trusted devices.
Military-grade: The Iridium 9575 Extreme is the last word in durability. It is Iridium's first phone to earn the military-spec 810F rating. Fully dust-proof, it is also shock proofed and resistant to jet-water. The Extreme has been designed from the ground up to work under all conditions endured by emergency and paramedic crews as well as government and military personnel. The world's highest-usage customers rely on the 9575 to communicate when it really matters - anywhere on the planet, and at any time.
Features
Iridium's most compact handset to date, the 9575 Extreme's features are now more focussed on the job at hand than ever before.
Latest developments result in reduced physical dimensions
Graphical user interface enhancements mean fewer referrals to the manual
Resistant to water, dust and shock
High-end SMS and eMail capabilites
Speakerphone is built in to the handset
Use with a headset or hands-free
Retractable, internally-stored antenna
Mini-USB data port for your external devices on the go
Enhanced Features:
Complies with military standard MIL-STD 810F
Awarded the most stringent Ingress Protection (IP) rating in the industry (IP65)
Online Tracking services enabled
Pocket-sized, this is Iridium's smallest phone ever
Elegance and toughness combined
Robust and retractable high-gain antenna
What's in the box:
Your Iridium Extreme package includes just about everything a satellite phone user needs:
Travel charger with international adapters
Car charger
Leather case
USB data cable
User manual
Quick Start guide
CD-ROM with software
2 accessory adapters*
Magnetic vehicle mount antenna with 5' cable
Hands-free earpiece with microphone
Iridium Extreme will remain compatible with the same Iridium 9555/ Iridium 9505A chargers, auxiliary antenna, and USB data cable via two included adapters.
* The adapters included with your Iridium Extreme are used to charge the handset, and to connect accessories. In order to maintain the Ingress Protection rating (IP65), the battery must be fully installed and all connector covers closed.
Specifications
Duration
Standby time: Up to 30 hours
Talk time: Up to 3.5 hours
Display
200 character illuminated graphic display
Volume, signal and battery strength meters
Illuminated weather-resistant keypad
Calling Features
Integrated speakerphone
Quick-connect to Iridium voice mail
Two-way SMS and short email capability
Pre-programmable International Access Code (00 or +)
Mailbox for voice, numeric & text messages
Selectable ring and alert tones (8 choices)
Memory
100-entry internal phonebook, with capacity for multiple phone numbers, email addresses and notes
Call history retains received, missed and dialed calls
Usage Control Features
User-configurable call timers to manage costs
Keypad lock and PIN lock for additional security

Iridium Postpaid Aust-60 Plan
Plans at a glance (inclusive of GST)
Monthly Subscription
$60.00
Plan Duration (months)
12
Activation Fee
$50.00
Flagfall
$0.00
From Iridium phones inside AUS (per minute)
Iridium to PSTN or Cellular
$1.98
Iridium to Iridium
$1.98
Iridium to Other Sat System
$18.00
Iridium to Customer Care
$0.00
Iridium to Personal Mailbox
$1.95
Iridium Direct Internet Data Call
$1.95
SMS Message (per message)
$1.20
From Iridium phones outside AUS (per minute)
Iridium to PSTN or Cellular
$2.55
Iridium to Iridium
$2.55
Iridium to Other Sat System
$18.00
Iridium toCustomer Care
$0.00
Iridium to Personal Mailbox
$1.95
Iridium Direct Internet Data Call
$2.55
SMS Message (per message)
$1.20
Calls Originating in North America
$6.50
Calls Originating in South America
$6.50
Calls Originating in Europe
$6.50

Iridium Prepaid 100 minutes