Thuraya XT Lite handset
The Thuraya XT-LITE is the perfect solution for those who need to stay connected no matter where they are in the world. With satellite mode connectivity, you can stay connected from anywhere under the coverage area of Thuraya's extensive satellite network, which spans more than 160 countries across Europe, Africa, Asia, and Australia.
Thuraya's congestion-free network is designed to provide uninterrupted connectivity to users beyond the reach of terrestrial communications and cellular networks. This is made possible through the automatic re-allocation of network resources to any single spot beam, ensuring that Thuraya XT-LITE users are always connected no matter where they are.
Part Number:
---
0-14 Days) $20 per day
(15-28 Days) $17 per day
(29 Days+) $15 per day
(3+ Months) $10 per day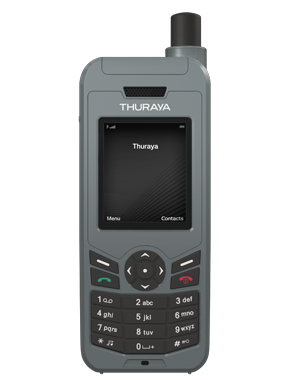 Staying connected has never been this easy. Introducing Thuraya XT-LITE, the world's best-value satellite phone.
The Thuraya XT-LITE provides reliable satellite phone connectivity with unbeatable value. It is designed for cost-conscious users who need to stay securely connected, without compromising on a clear and uninterrupted connection.
It is very easy-to-use. You can make phone calls and send SMS messages in satellite mode, whether you are crossing the desert, sailing at sea or climbing mountains.
No matter where your journey takes you, you can rely on Thuraya's comprehensive satellite network to provide reliable, clear and uninterrupted communications in more than 160 countries across Europe, Africa, Asia and Australia.
Size (phone body)
128 x 53 x 27 mm
Weight
186g
Services
Satellite calls and satellite SMS
Network frequency
L-Band
Satellite antenna
Omni directional (walk-and-talk functionality)
Battery life - talk time
Up to 6 hours
Battery life – standby time
Up to 80 hours
Network features
Call barring, Call diverting, Conference calls, Call waiting, Closed User Group, Voice mail
Organizer
Alarms, Calendar, Calculator, Stopwatch, World time
External interfaces
UDC data cable with USB connector, earphone jack (2.5 mm), DC power
Firmware versions
>Multi-language firmware: Arabic, English, Farsi, French, German, Hindi, Italian, Portuguese, Russian, Spanish, Turkish, Urdu

Chinese firmware: Simplified Chinese, English
PC compatibility (for firmware upgrades)
Windows 8/8.1, 7, Vista